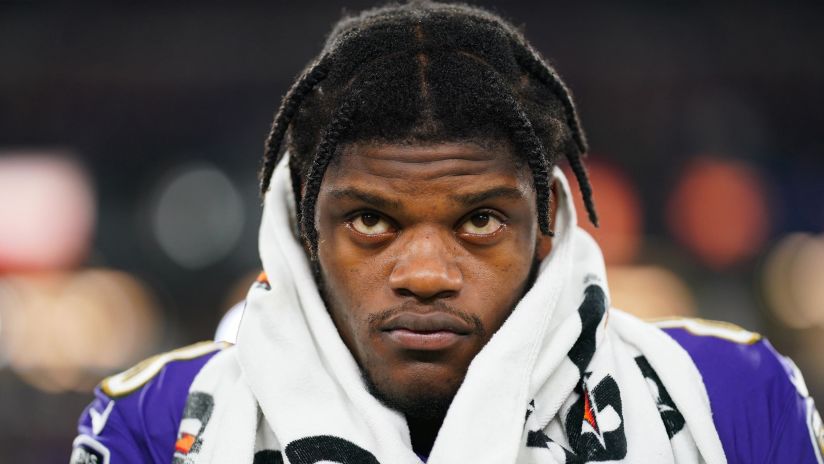 Lamar Jackson picked a bad day to a have a bad day. The presumptive MVP who lead the League in multiple categories and lead his Baltimore Ravens to a 14 – 2 record and the No. 1 seed in AFC laid a proverbial egg on Saturday night, AT HOME.  Jackson had three turnovers and was generally off and specifically  late and low and behind and beneath his normal level of play.
The Ravens fell to the the No. 6 Seed Tennessee Titans who shocked the football world by running all over the Ravens, both literally and figuratively.   The Ravens didn't play very well, and the mistakes and miscues by the star quarterback wearing No. 8 didn't help.
Lamar Jackson didn't actually chose to have a bad day, and neither do we. Bad days just seem to happen. And bad days tend to happen at the worst of times. The key is how you react and respond to adversity. The Ravens were favored to win it all, and we all were looking forward to watching a Super Bowl with Lamar in it. But not this year. 
There's no way to explain how and why Jackson has not performed in the playoffs two years in a row, but his Coach believes that he will rebound and return to form next year.  We all hope so. And Isn't that just like life? We all need to rebound recover and bounce back and get back up and get back going after falling and failing. That's why I'm rooting for Lamar Jackson, even if he's out of the playoffs.
Here's how the Baltimore Sun reported the story:
"BALTIMORE (AP) — With his bright red shoes and relentless running, Derrick Henry grabbed the spotlight and wouldn't let go.
When he was done leading Tennessee into the AFC championship game Saturday night, he did a lengthy victory lap around the Baltimore Ravens' home, slapping hands and taking selfies with Titans fans.
It has been quite a two-week ride.
"It's not just me," Henry said after rushing for 195 yards and throwing a 3-yard touchdown pass in a 28-12 upset of the NFL's top team Saturday night. "It's a team effort. We're all playing collectively as an offense, as a whole. We're just locked in. We believe in each other. We communicate. It's working out there."
The Lamar Jackson who ran with abandon and threw 36 touchdown passes for the best team in the league failed to show up in the playoffs — again.
During his marvelous second season in the NFL, Jackson was an All-Pro quarterback who carried the Baltimore Ravens to the best record in the league. Jackson amassed the most yards rushing by a quarterback in league history and was the catalyst of an offense that led the NFL in scoring.
All of that — as well as Baltimore's 12-game winning streak and home-field advantage — was irrelevant against the Tennessee Titans on Saturday night.
Coming off a three-week break and looking appropriately rusty in doing so, an error-prone Jackson threw two interceptions, lost a fumble and didn't get the Ravens into the end zone until the fourth quarter of a 28-12 defeat.
All season long, Jackson was intent upon erasing the memory of his rookie season, when he guided Baltimore to a 6-1 finish before faltering in the postseason opener at home against the Los Angeles Chargers. Jackson went 2 of 8 for 17 yards and an interception in the first half, and the Ravens trailed 23-3 in a one-and-out playoff performance.
It was Super Bowl or bust this time around, and Baltimore sure looked capable of making that happen. Jackson and the Ravens were virtually unstoppable over the final three months, slapping aside some of the best teams in the league with surprising ease.
That's what made this game so darn surprising. Jackson did manage to rush for 143 yards, but most of that came in two chunks, a 30-yarder in the third quarter and a 27-yarder during Baltimore's lone touchdown drive.
But twice he failed to convert fourth-and-1 runs, stuffed at the line of scrimmage on each occasion. Both times, the Titans went the other way for touchdowns.
Before this game, Baltimore was 8 for 8 on fourth-and-1 this season. Then again, very little that occurred during the regular season for the Ravens went right on this night.
Jackson's 50th pass of the night, on fourth down in Tennessee territory with just over 4 minutes left, hit the ground with a thud. So, in fact, did Baltimore's season.
He finished 31 for 59 for 365 yards. The main number, however, was the 12 points — Baltimore's lowest output of the year.
Jackson doesn't deserve all the blame for the collapse. Heck, the Ravens twice were penalized on punt returns without even getting their hands on the ball. And another All-Pro selection, Marcus Peters, was burned badly by Kalif Raymond on a 45-yard touchdown pass immediately after Jackson failed to gain the yards necessary to maintain possession.
"It only takes turning the ball over one or two times, a penalty here and a penalty there. All it takes is one loss and we're done," Yanda said. "That 14-2 stuff does not matter."
How very true."